Open from 7pm to Midnight on days in Yellow 
Open from 6pm to Midnight on the days in Red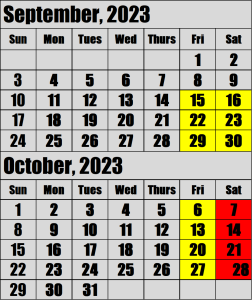 The last victims are in line by midnight . . . if you are in line by midnight you will be sold a ticket. We do not sell out of tickets. No reservations needed.
The Last Mine Tour leaves at 11:30pm. The Mine Tours starts at the same time as the Cave but closes at 11:30pm each night. Mine tours are weather dependent. Check Facebook for details. Mine Tours are NOT Scary!
 Open Friday and Saturday Evenings Only . . . Our Ghouls need their Ugly Rest!!!
NEW for 2023. Lights "ON" FLashlight Tour
Join us October 21st from 3pm to 5pm for your first ever chance to see the Haunted Cave with the Lights "ON" Bring your own flashlight event.
Walk through th Haunted Cave without the Actors scaring you. You may use your own Flashlight on this tour to see the scenery and sets for this date only. Take your time and enjoy walking the trail. The Props and Lights and SOunds will be on for this show, the only difference is there will not be actors jump scaring and chasing you. Perfect for families, kids and scaredy cats that may be too afraid to go through the Full Haunted Cave Sow. You must exit the cave by 530pm. There maybe actors roaming around and preparing for the night but they will not attempt to scare you.