Historic Wagonride
 Wagonride tickets: $8 purchased on site at the Lewisburg Historical Society Trailer. $4 Child tickets (under 12)
Where: The Parking lot of the Lewisburg Haunted Cave
When: Wagonrides are offered every Friday and Saturday night, dates/hours are the same as the Haunted Cave beginning at 7:00
What: The Lewisburg Historical Society runs historic tours of the Lewisburg Limestone mine, home of the Haunted Cave and Ohio's largest brown bat habitat. The tour explains the history of the mining operation and is NOT SCARY, takes you into a different part of the mine than the Haunted cave, you are likely to see bats.
Kettle Korn freshly popped and available at the Lewisburg Historical Society tent.
Conducted by and proceeds benefit the Lewisburg Historical Society.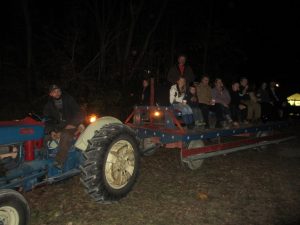 Directions to the Haunted Cave and Mine Tours can be found here.